News > PROGRAMMABLE CAPACITIVE SENSORS WITH ADJUSTABLE TIME DELAY.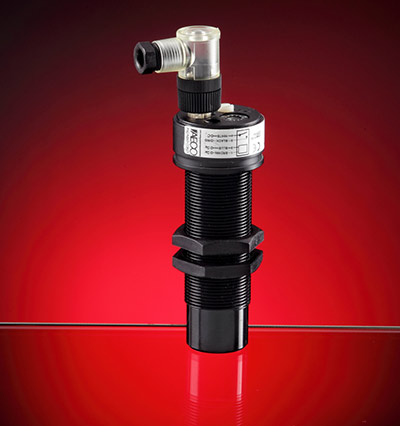 This proximity sensor belongs to the capacitive sensor family, it supplies a signal to the external load which can be delayed up to 10min. when any material solid or liquid (water, glass, wood, metal, coffee, powders etc.) come into the sensing area, it is used principally as a level control.
This model is completly programmable regarding the delay in energization and de-energization with open or closed output, the sensor does in fact contain a 1A 220Vac changeover relay.
Due to its versatility, programmability and high power output compared to a normal electronic sensor, the stocking of product for the wholesaler is simplified as is the adaptability of the switch to any application. This sensor can be used with the protection housing SCM-R which is of POM and therefore satisfies the most severe abrasion resistance requirements.
When used as a level control, this housing allows for the sensor to be substituted whenever required.
Scarica Allegato:

| | | | | | | | | | |
| --- | --- | --- | --- | --- | --- | --- | --- | --- | --- |
| Mechanical characteristics | Housing type | Sensing distance (mm) | Shielding | Output type | Working voltage | Function | Actuation type | Delay range (min) | Other search criteria: |
Legend
This Guided Search enables you to select Aeco products by different characteristics according to your requirements. Selected characteristics are displayed in bold letters and with each selection all characteristics are updated. The boxes, wich cannot be selected any more, are highlighted in grey colour. You can then see wich features are still available.




Resets all search criteria of the selector to start a new search.


Shows search results. A list with less than 50 products is displayed automatically.